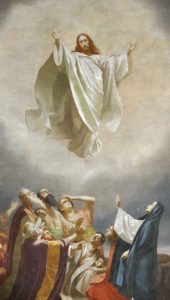 Ascension Thursday
Thursday, May 10th is the Ascension of the Lord.  We celebrate the Lord's ascending to the right hand of God the Father in heaven.  However He does not leave us orphaned as He promises the Holy Spirit which we will celebrate on Pentecost!  The Ascension of the Lord is a Holy Day of Obligation and we will have Masses in English at 8am, 12noon and 7pm.  Wednesday May 9th we will have Mass in Spanish at 7pm.
Mother's Day
Sunday, May 13th is Mothers' Day.  We will celebrate our Mothers' Day Novena of Masses.  You are invited to fill out an envelope with the name of your mother, grandmother, daughter, and all those important women in your life so we can pray for them during our Mothers' Day Novena of Masses.
For now, we continue our walk with the Lord.