Memorial Day
As we reflect this Memorial Day weekend, we might think of those who sacrificed for our freedom, and those who continue to do so.  We might look at that sacrifice and the movement of our nation over the years as hopefully guided in part by the Holy Spirit.  We also continue to pray for our leaders in government from the President on down that they might be open to the movement of the Holy Spirit and might guide our nation in the ways of peace and justice.
Ascension Thursday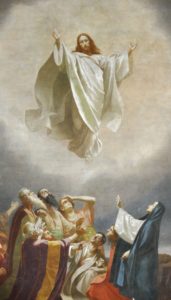 Thursday, May 30th is the Ascension of the Lord.  We celebrate the Lord's ascending to the right hand of God the Father in heaven.  However He does not leave us orphaned as He promises us the Holy Spirit which we will celebrate on Pentecost!  The Ascension of the Lord is a Holy Day of Obligation and we will have Masses in English at 8am, 12noon and 7pm.  Wednesday May 29th we will have Mass in Spanish at 7pm.
For now, we continue our walk with the Lord.