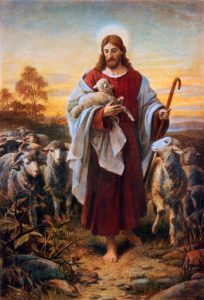 This Sunday we celebrate Good Shepherd Sunday because the gospel speaks about Jesus as the Good Shepherd.  It is dedicated as World Day of Prayer for Vocations.  We pray in a special way for our young people and their families that they might be open to whatever God is calling them to, and that their families will be supportive in their answering the Lord's call.  We pray for an increase of vocations to the priesthood, religious life, the diaconate and family life.  We know most are called to family life.  Still, we pray for our young people as they discern their vocation that they might respond generously and courageously.  We know the Good Shepherd does not leave us orphan but sends other shepherds, bishops, pastors, and priests to help guide and guard us.  Jesus the Good Shepherd, hear our prayer!  This weekend we begin our Traveling Chalice for prayers for vocations.  So far, we have four families signed up.  We are looking to continue this for as long as we can, so if your family is interested, please contact the parish office to sign up 631-288-1423 or parishoffice@iccwhb.org.
For now, we continue our walk with the Lord.
---
Yes, I would like to participate in our Prayer for Vocations Chalice Program!
¡Sí, me gustaría participar en nuestro Programa de Cáliz de Oración por las Vocaciones!
Name/Nombre:
Address/Dirección:
Phone/Numero de teléfono:
Email/Correo electrónico:
Mass you normally attend/Misa que asistía normalmente: