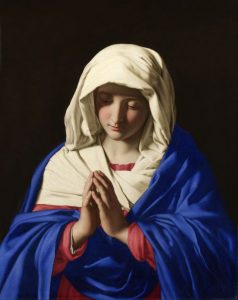 The month of May is dedicated to the Blessed Mother.  We have an opportunity to reflect on Mary and her role in salvation history.  We also have an opportunity to reflect on her as the Mother and Model of the Church.  Her "Yes" enables us to reflect on how we can say "Yes" to the Lord, and how we might live that out in our lives.  Reflecting on the mysteries of the Rosary is a great way of celebrating the Month of May with Mary.  After the daily 8am Mass, our rosary group prays the Rosary.
We will also celebrate May Crowning on the weekend Masses of May 15th and 16th with our First Communicants and their families.
For now, we continue our walk with the Lord.