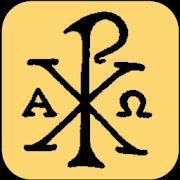 The most comprehensive Catholic App. Available in English, Español, Português, Française, Deutsch, Nederlands, Slovenský, Italiano, Bahasa, Polski, Slovenski, Hrvatski, Việt, 简体, 繁體 and Românesc. Daily Mass Readings, Order of Mass, Liturgy of Hours, New American Bible, Latin Mass, Latin Liturgy of Hours, Rosary and Latin Rosary, Chaplet of Divine Mercy (on Rosary screen), Seven Sorrows Rosary, Chaplet of St. Michael, Holy Wounds Chaplet, St Jude Chaplet, Franciscan Crown Rosary, Stations of the Cross, Saint of the Day, Catechism of Catholic Church, Sacrament of Reconciliation (Confession), Daily Examination of Conscience, various prayers and prayers in Latin with English translation. Daily Prayer. Podcast for Rosary and Stations. Daily Meditations. Podcasts of Daily Readings with read-along text and meditations. Ability to bookmark prayers and create own categorized prayers. Export/Import for prayers. Edit prayers on your Mac or PC and Import into Laudate. Daily Bible Verse on Daily Readings screen. Douay-Rheims Bible for offline use. Second Vatican documents, Code of Canon Law and papal encyclical letters.
All Readings Together is a redirect to websites that can be configured as follows: USCCB, Evangelizo and Universalis. Daily Readings podcast from USCCB website is a direct link to the podcast and we removed that podcast from All Podcasts Together.
TO PRAY ROSARY IN LATIN, PLEASE TAP [NEW ROSARY] BUTTON WHEN IN LATIN ROSARY SELECTION.